Our newest community of homes in the Asheville area is Mallard Run and its convenient Arden location makes it the perfect place to enjoy  all the finer things this region has to offer.  By being just minutes from the Blue Ridge Parkway and all the natural wonders hidden in the Blue Ridge Mountains National Park.  One of those attractions is sliding rock, Asheville's natural water slide hidden in the Pisgah Forest.  It opens May 28th and will remain open throughout the summer.
Sliding Rock can be accessed in two ways from Mallard Run you can take the Blue Ridge Parkway and enjoy the scenic beauty of the mountains or you can take the Brevard Road path and cut y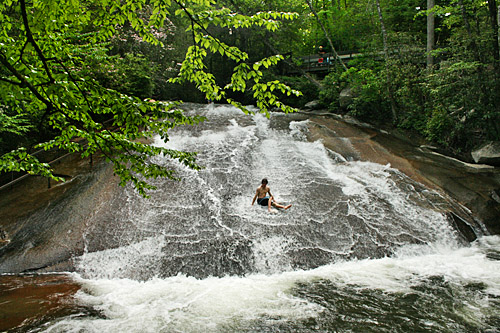 our time and get there a little quicker.  If you are new to the area, Sliding Rock has been a popular tradition for generations, so be warned, the parking can be an issue so you might want to get there early.  There are other things you can do near Sliding Rock such as check out the Cradle of Forestry and learn all about the plant life in the area.
Summer is coming and you will be looking for ways to entertain bored kids out of school and this is an excellent opportunity to keep them entertained for a day without spending a big pile of cash. If you would to know more about how to get to Sliding Rock or just receive more general information please click on this link.  One final warning, that water is mighty cold but that might not be so bad when those old dog days of summer get here.